How to clean flower buckets
When you have a company that handles a lot of flowers, you're naturally dealing with a lot of flower buckets. It is important to keep these flower buckets clean and to prevent infections or contamination from bacteria, fungi or stickers. Here at Limex, we have a suitable and effective solution for keeping your flower buckets clean, without impacting your company processes.
Our Bucket Washers
Our bucket washing machines are the perfect solution for maintaining high quality and hygiene standards in large companies. The bucket washers can be adjusted according to specific plants and situations. They are a sustainable solution, because they can help reduce water, energy, and chemical consumption. This makes our bucket washing machines a perfect solution for cleaning high numbers of flower buckets systematically, between each process within the company.
Using Limex bucket washing machines for cleaning your flower buckets offers a number of benefits. First of all, it's important to get the basics right: the product should be thoroughly cleaned, visually as well as microbiologically. While flower buckets can be an easy target for bacteria or fungi, our cleaning methods make sure this is kept to an absolute minimum, resulting in a reduction of spoilage risks. Besides this, the flower buckets get a longer life cycle – clients can use them for a longer time, which also logically results in a reduction of waste in terms of materials used.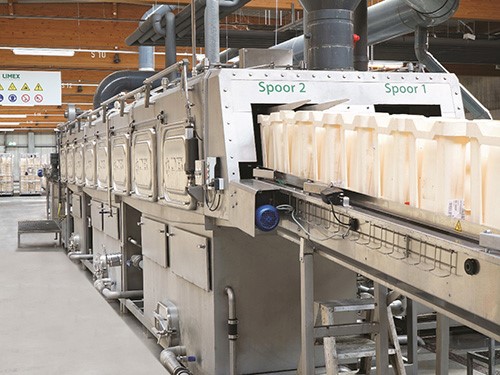 Contact us
Here at Limex, we focus on a high degree of product hygiene and the protection of crops against viruses, bacteria and fungi with the usage and development of our crate washers. Improving production hygiene reduces product waste and results in a higher output while keeping the input of the process on the same level (raw materials, energy or labour). Would you like to talk to us about our solutions and how they can contribute to your organization or processes? Please contact us, we will be happy to explain more about our working method and our machines!